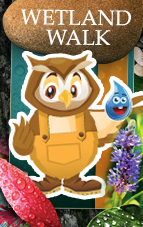 Owlexander's Wetland Walk
Explore the Wetland Walk with Owlexander and Wally the Waterdrop!
View
photos
from the grand opening!
About the Trail
This nature literature trail is a half-mile, wheelchair and stroller accessible, paved path that runs alongside the woods. Children of all ages with their adult companion can explore the Wetland Walk and learn about watersheds and wetlands, how the water cycle works, and be able to make other scientific observations. The trail is divided into three chapters and each chapter contains activities and ideas for kids to think about and try. The
trailhead to Owlexander's Wetland Walk
may be found at
Oak Creek South Park
, 790 Miamisburg-Centerville Road, Centerville, OH.
Learn About the Wetlands
Do Some Fun Activities
About the Sponsors
This Nature Literature Trail and Owlexander's Wetland Walk are made possible through a partnership between the Washington-Centerville Public Library and the
Centerville-Washington Park District
and is fully funded by the William and Dorothy Yeck Family Foundation.