Owlexander's Tree Trek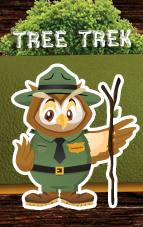 Explore the Tree Trek nature literature trail. There are more than 100 tree species native to Ohio and this trail educates the hiker about 14 species - including information about the tree's family name, leaf shape, bark appearance, commercial use, and, in some cases, interesting folklore. This trail is primarily aimed at middle schoolers, but is a fun and free activity for the entire family!
View photos from the grand opening!
About the Trail
This one mile path runs through the woods at Bill Yeck Park, 8798 Rooks Mill Lane, Centerville, OH. On the Tree Trek trail, hikers will learn about dendrology, the study of trees.
Learn About the Trees in Bill Yeck Park
Do Some Fun Activities
About the Sponsors
Owlexander's Nature Literature Trails are made possible through a partnership between the Washington-Centerville Public Library and the Centerville-Washington Park District and is fully funded by the Yeck Family Foundation.