Owlexander's Tyke Hike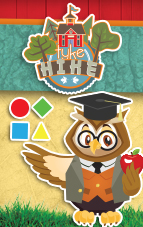 Welcome to Owlexander's Tyke Hike at Schoolhouse Park. Follow Owlexander, the park district mascot, and his woodland friends, through the park as he helps build early literacy skills and improve physical motor skills for busy early learners. Busy tots will practice physical skills such as balancing on one foot like a bird, hopping like a bunny, and stretching like a tree, as well as early learning skills like shape, color, and letter recognition in nature.
This trail is perfect for toddlers and their parents, but is a fun and free activity for the entire family!
About the Trail
Hike the paved path. A series of six age-appropriate trail signs is just the right length to keep little learners happy and healthy! Schoolhouse Park is located at 1875 Nutt Road in Washington Township, OH.
View photos from the grand opening!
Learn About Colors, Numbers & Shapes
Activities
Coloring Pages - You might find several of these animals on your hike!
About the Sponsors
Owlexander's Nature Literature Trails are made possible through a partnership between the Washington-Centerville Public Library and the Centerville-Washington Park District and is fully funded by the Yeck Family Foundation.