Read More!

Super Readers - Kids Book Club
(For Kids in Grades 1 & 2)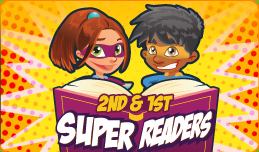 Calling All Bookworms!
Join our kids book club for some fun reading with other kids your age.
Registration IS NOT required!
A parent, guardian or caregiver must also attend.
Who, Where & When:
Are you in grades 1 or 2? Then you can be a member of the club. It meets at Centerville Library from 6-7 PM in the Community Room on the following dates:
October 18

November 15
October Book Selection:
For October's meeting, please read any book from the
Narwhal and Jelly
series by Ben Clanton. Pick up a copy of a book, while supplies last, at either Children's Desk.
Questions & Answers:
Must my parent or guardian attend?
Yes. A parent, guardian or caregiver must attend the meeting.
Is it necessary to attend every month?
No. You don't have to attend every month, but we'd certainly love it if you did!
Are there age restrictions?
Yes, this club is open to kids in 1st and 2nd grade.
May I make suggestions for book selection?
Yes. Suggestions are encouraged. Simply call or email your suggestion to the contact below.
For more information, send an email to bwalsh@wcpl.lib.oh.us or call the Youth Services Department at Centerville at 937-433-8091.